Well, mon petit illiterati, I've got nothing today and with today being Tuesday, you know that means I have to
PLUNDER THE INTERNET!
Let's start by getting our Obligatory Musically Related Content out of the way, and go shopping for a new amplifier, preferably one with 5W of balls behind it and a space to put your undies:
The Sonny Boy by Blues Luggage.
Look, if I want luggage, I'll go down to the military surplus store and buy a duffel bag. If I want an amp, I'll cruise the for sale threads at EA and buy a fucking amp. But if I want to look like a white suburban middle-aged divorce lawyer with things like boat payments to make and "relic'd" Fenders to buy, then I'll combine the two.
Continuing on to our Obligatory Web Comic That Everybody I Know Loses Their Shit About but I Don't Really Dig It Content, let me present you with the only XKCD comic that I ever thought was funny.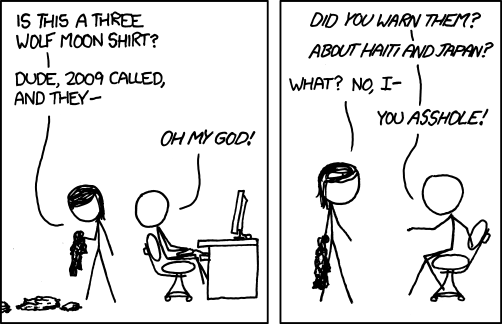 Speaking of Japan, I have a feeling I've linked to our Obligatory Japan Content before.
But, you know even while I found that funny, nothing competes with our Obligatory Poster Muppets for Gay Marriage Content, especially said Poster Muppets for Gay Marriage are voiced by Pesci and Deniro.For our Obligatory Why Hasn't That Been Invented Yet? Content, please refer to the
Color Picker Pen
but if you'd rather see what happens when you give a sci-fi nerd too much time, check out our
Obligatory Sandworm Content
. Why? Because they like to eat things, just like the little fella in our
Obligatory Cuban Tree Frog Content
.
I've got nothing.